STAFF
David V. Ellis, M.P.A.
Principal Archaeologist
M.P.A., Public Administration, Portland State University, 1992
B.A. with honors, Anthropology, Ball State University, 1972
Principal Archaeologist David V. Ellis has directed cultural resource projects in the Pacific Northwest for over 40 years. He was a U.S. Army Corps of Engineers staff archaeologist for two years, and then owned a private CRM company for 10 years. From 1990 until cofounding Willamette Cultural Resources Associates in 2007, he was a senior archaeologist for the region's largest CRM firm. One of David's strengths is his ability to assist clients with challenging, if not controversial, projects with difficult compliance issues. David has assisted in addressing cultural resources for projects involving multiple state and federal agencies and multiple Tribes, as well as directing evaluation and excavation at large precontact sites and complex historic-period sites. He has evaluated historic-period buildings and structures, and directs traditional cultural place studies. His experience includes the development of predictive models and preparation of environmental assessments and environmental impact statements, cultural resource management plans, agreement documents, and archaeological monitoring protocols. David has particular experience with Superfund sites and hazardous waste remedial actions, U.S. Army Corps of Engineers 404 permit requirements, natural-gas pipeline and wind energy projects, wastewater treatment systems, and traditional cultural properties
His research interests include the prehistory and archaeology of the Columbia Basin and western Oregon, with a focus on the Portland Basin. He also conducts ethnographic and historic research. This interest is reflected in his authorship of the chapter on cultural geography for Chinookan Peoples of the Lower Columbia River published by University of Washington Press in 2013. From 2000 to 2006, David served as chair of the Oregon Heritage Commission and from 2006 to 2009 he served as president of the Association of Oregon Archaeologists.
Todd Ogle, M.A., R.P.A.
Archaeologist
M.A., Anthropology, Washington State University, 2004
B.A., History and Anthropology, Northwestern University, 1999
Todd has worked professionally for a variety of private CRM firms and federal and state agencies in the Pacific Northwest, Great Plains, Midwest, and Southeast United States. He has worked extensively to fulfill Section 106 and NEPA requirements for projects that range from brownfield redevelopment; to natural gas and power generation and transmission projects; to stream/environmental restoration. Todd has experience with USACOE Section 404 permitting though private development projects, waste treatment facilities, and other utility projects. Todd has successfully scoped, conducted, and finalized documents and projects of all sizes from small inventory surveys, to large scale data recovery excavations, to managing on-call (IDIQ) contracts for local and federal entities.
Todd's research interests include precontact technologies, particularly lithic artifacts, history and prehistory of the Pacific Northwest, complex hunter-gatherers, precontact settlement patterns, and site formation processes. He is a member of the Register of Professional Archaeologists, Society for American Archaeology, Association of Oregon Archaeologists, Association for Washington Archaeology, and the Oregon Historical Society.
Paul S. Solimano, M.A., R.P.A.
Archaeologist
M.A., Anthropology, Portland State University, 2008
B.A., Anthropology, Pennsylvania State University, 1990
Paul has regularly assisted clients ranging from federal agencies to local or state entities and private firms with Section 106, NEPA and Section 404 compliance. He has directed hundreds of cultural resource projects, including large and small-scale inventory surveys and NRHP eligibility testing and data recovery excavations at numerous precontact and historic-era sites. He has prepared cultural resource sections for environmental assessments and environmental impact statements, and designed archaeological monitoring plans. Paul has extensive professional experience with reservoirs, waste treatment and power transmission projects and specializes in management plans, contexts, and research designs, archaeological districts and multiple property nomination forms. He has assisted clients in complying with SEPA and is familiar with DAHP requirements, having surveyed, tested, and excavated numerous sites in Washington.
Paul's particular focus is on the prehistory of the Columbia Plateau, the Portland Basin and Southeast Washington, where his research interests include hunter-gatherer settlement and subsistence patterns, landscape approaches to archaeology, research design development and archaeological field methods. He is a past Director-at-Large for the Association for Washington Archaeology, a member of Sigma Xi, and a research associate at Portland State University.
Robert Kopperl, Ph.D., R.P.A.
Archaeologist
Seattle Office
Ph.D., Anthropology, University of Washington, 2003
Museum Collection Management and Interpretation Certification,
University of Washington Extension Program, 2002
M.A., Anthropology, University of Washington, 1998
B.A., Anthropology and Philosophy, Grand Valley State University, 1995
Bob has worked as an archaeologist since the mid-1990s, directing cultural resource management projects since 2003. He has been a Cultural Resources Principal Investigator for both small regional and large national CRM and environmental consulting firms and has directed projects throughout Washington, Alaska, Idaho, and Oregon, for municipal, state, federal, Tribal, and private clients. Bob has managed multiple on-call cultural resources contracts for municipal and state agencies and has particular experience with NHPA Section 106, and NEPA as well as city and county heritage preservation laws. He has worked extensively with SEPA and Washington DAHP requirements. Bob has overseen large-scale pedestrian and shovel probe survey, evaluation and data recovery at numerous archaeological sites ranging from coastal shell middens, to Interior Native American hunting camps, to remnants of historic European American settlements. He has prepared agreement documents, historic property management plans and predictive models.
Bob has authored numerous peer reviewed articles and book chapters involving the archaeology of the Pacific Northwest and Alaska, evolutionary ecology, zooarchaeology, cultural landscapes, Pacific Northwest and Alaskan traditional foods, and archaeological subsistence studies. Bob has been an affiliate curator of archaeology at the Burke Museum of Natural History and Culture for over ten years. He has served on the Board of Directors of the Association for Washington Archaeology for over eight years, and is currently president. He is also a member of the Society for American Archaeology and the Alaska Anthropological Association.
Daniel M. Gilmour, M.A., R.P.A.
Archaeologist
Portland Office
M.A., Anthropology, Portland State University, 2011
B.A., Anthropology, University of California at Santa Cruz, 2005
Danny has conducted fieldwork across the western United States, including California, the Great Basin, and the Pacific Northwest. He has participated in over 100 cultural resource projects, directing survey, testing, and data recovery efforts for Section 106 and NEPA compliance. Danny has led and contributed to archaeological investigations associated with transportation projects, transmission lines, timber sales, urban infrastructure projects, reservoirs, and private development.
Danny's research interests include hunter-gatherers, zooarchaeology, evolutionary ecology, archaeological field methods, and vertebrate paleontology of the Columbia Plateau and the Northwest Coast, as well as the Willamette Valley. Danny is 40-hour HAZWOPER certified.
Stephenie Kramer, M.S.
Archaeologist
Seattle Office
M.S., Anthropology, University of Oregon, 2000
B.A., magna cum laude, Latin, The University of Arizona, 1991
Stephenie worked as an archaeologist in the Pacific Northwest for various consulting firms and the Forest Service in Washington, Oregon, and Idaho prior to becoming the Assistant State Archaeologist for the State of Washington. During her 14 years at the Department of Archaeology and Historic Preservation, Stephenie reviewed and commented on excavation permit applications, testing and data recovery plans, National Register Nominations, and cultural resource reports. She routinely provided applicants guidance on successful application strategies and consulted and negotiated with federal, state, local, and Tribal government officials and staff, attorneys, private landowners and archaeological consultants. She has an expert understanding of the administration of Section 106 of the NHPA, ARPA, RCW 27.53 & 27.44, administrative processes, the public records act and the regulatory environment of cultural resources management. She has written numerous memoranda of understanding and agreements (MOU and MOA), settlement agreements, as well as cultural resources technical reports and regional journal articles.
Kanani Paraso, M.A., R.P.A.
Archaeologist
Portland Office
M.A., Anthropology, The University of Arizona, 2005
B.A. with honors, Anthropology, University of Hawai'i-Mānoa, 1997
Kanani has worked as an archaeologist throughout the Pacific as well as in Alaska, China, France, and Egypt for private companies and research institutions. She has worked extensively with Section 106 compliance for U.S. Army Corps of Engineers and Navy projects across the Pacific. Kanani has directed inventory and evaluative testing at sites in the Northwest and Alaska and directs the WillametteCRA laboratory.
Kanani was the project surveyor during four seasons at the Panxian Dadong Collaborative Project, a Paleolithic cave site in southern China. Her research interests include East Asian prehistory, prehistory of the Pacific Northwest, hunter-gatherer settlement patterns, paleoenvironments, and site formation processes. Kanani is 40-hour HAZWOPER certified.
Donald Shannon, M.A.
Cultural Anthropologist
Portland Office
Graduate Research Assistant, Dept. of Anthropology,
University of Oklahoma, 1999-2000
M.A., Anthropology, Washington State University, 1996
B.A., Anthropology, Washington State University, 1992
Don began conducting ethnographic fieldwork in 1993, looking at the cultural context of early infant care among Aka hunter-gatherers and Ngando farmers in central Africa. After earning his M.A., he studied father-child relations among Native Americans in Oklahoma, then worked as an anthropologist for the Colville Confederated Tribes History/Archaeology Program for eight years, where he conducted applied ethnographic work related mostly to dams, reservoirs, and energy projects. Don joined WillametteCRA where he applies his experience in conducting applied ethnographic research to compliance with Section 106 of the National Historic Preservation Act; the National Environmental Policy Act; the American Indian Religious Freedom Act; the Native American Graves Protection and Repatriation Act; Executive Order 13007-Indian Sacred Sites; and National Register Bulletin #38, "Guidelines for Evaluating and Documenting Traditional Cultural Properties." Don has also provided TCP and ethnographic training to various state and federal agencies.
Don's research interests include hunter-gatherers, small-scale cultures, languages, Native Americans of the Columbia Plateau, place name studies, cultural adaptation and continuity, the history of anthropological research in the Pacific Northwest, and applied ethnographic work from a compliance perspective.
Matt Goodwin, B.S.
Archaeologist
Portland Office
B.S., Communications with Anthropology minor,
Southern Oregon University, 1995
Matt began his career in the mid-1990s with the Bureau of Land Management in Klamath Falls, Oregon. While there, he prepared a National Register of Historic Places nomination for a diverse complex of prehistoric archaeological sites near the Oregon – California border. He then worked as a staff archaeologist for a large Pacific Northwest CRM firm for 7 years. In 2003 he left the northwest to work as a staff archaeologist for one of the world's largest engineering and environmental consulting firms, AECOM, in New York City, working on projects throughout New England, the Mid-Atlantic, and the Southeastern United States. Matt returned to the Pacific Northwest and joined WillametteCRA in the summer of 2010. He has extensive experience documenting aboveground historic period resources at the inventory level. Matt conducts GIS analysis and has an interest in precontact lithic technology and stacked rock features.
Michael Daniels, B.S.
Archaeologist/Technical Editor
Portland Office
B.S., Anthropology and Philosophy, Portland State University, 2012
Michael started with WillametteCRA in 2011 as an intern analyzing an assemblage of projectile points from the Briar site (35-CO-35) and assisting in a number of lab and research projects. After completing his undergraduate degree Michael continued with WillametteCRA where he has worked on cultural resource projects ranging from pedestrian survey to site testing multi-component archaeological sites. Michael has recorded numerous precontact and historic-era sites, stacked rock features and trails. He also assists with GIS, artifact curation and formatting and editing technical reports. Michael's interests include lithic analysis, historic development of communities in Oregon, urban planning, and multi-disciplinary approaches to understanding the past and present.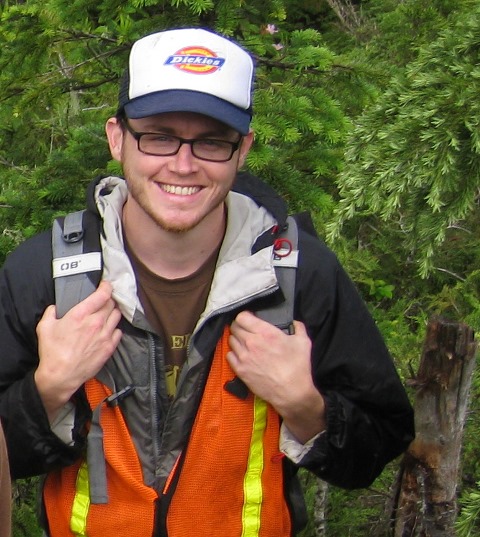 Breanne Taylor, B.A.
Archaeologist/Technical Editor
Portland Office
B.A., Anthropology, Portland State University, 2010
Breanne received her degree from Portland State University in 2010. While at PSU, she completed a field school at Fort Vancouver in Washington and a summer-long internship in Virginia City, Montana, which included the data recovery of a nineteenth century brothel. After graduation, Breanne worked throughout the Pacific Northwest and Northern Great Basin as an archaeological field technician for several regional CRM firms. She participated in remote pedestrian surveys, large-scale testing, and data recovery projects throughout Washington, Oregon, and Idaho. Breanne's areas of interest include historic period immigration and settlement, mining/boomtown archaeology, and the proto-historic period of the Pacific Northwest. She is 40-hour HAZWOPER certified. Breanne is currently pursuing a master's degree in the Department of Archaeology at Simon Fraser University while continuing to work full time at WillametteCRA.
Kenneth Ames, Ph.D., R.P.A.
Emeritus Professor of Anthropology, Portland State University
Ken has worked in the Northwest since the early 1970s. He is an expert in precontact, hunter-gatherer archaeology, specializing in the Columbia Plateau and Northwest Coast. His interests range from cultural evolutionary theory, and complex societies, to archaeological method and theory, cultural ecology and household archaeology. Ken has directed excavations at multiple sites in the Snake River drainage, Portland Basin and Northwest Coast and has published peer-reviewed articles, reports, book chapters and books. Since retiring from PSU, Ken regularly works with WillametteCRA, assisting in creating contexts and research designs as well as various technical analyses. (http://web.pdx.edu/~amesk/publications.htm).
Eric Bangs, Ph.D.
Archaeologist
Ph.D., Anthropology, University of Minnesota, 2010
M.A., Anthropology, University of Minnesota, 1999
B.A., Anthropology with Classics minor, University of Washington, 1991
Eric, a Northwest native, attended the University of Washington's archaeological field school at British Camp on San Juan Island, and worked in CRM for several years in the Puget Sound, Columbia Plateau, and the Great Basin. Eric's doctoral dissertation at the University of Minnesota drew upon ceramic and burial data from nine archaeological sites dating between the First and Sixth centuries AD to study culture contact between the Roman Empire and native Germans in the Breisgau of the upper Rhine valley.
Eric's research interests include the archaeology of frontiers and zones of cultural contact, the archaeology of warfare, ceramic technology, and the application of Darwinian evolutionary theory to archaeological research. Eric maintains an interest in hunter-gatherer archaeology, often drawn back by fire-cracked rock analysis. Eric has taught anthropology at several colleges in the Midwest including the University of Minnesota, St. Cloud State University (Minnesota), and University of Wisconsin – Stout.
Renae Campbell, B.A.
Archaeologist
B.A., History with Anthropology minor, Pine Manor College, 2007
Renae, an Oregon native, graduated at the top of her class, at a small liberal arts college just outside of Boston, MA. During her senior year, she completed a yearlong internship at the Boston City Archeology Lab cataloguing a collection of artifacts recovered from a privy on Beacon Hill. After graduation, Renae worked as a field technician for various CRM companies in the Pacific Northwest, the Great Basin, and the Colorado Rockies doing survey, testing, and data recovery. Working for WillametteCRA, she was a principal historic-era archaeologists, working on multiple surveys and site testing projects as well as assisting with traditional plant surveys. Renae is currently on leave from WillametteCRA while she pursues a master's degree in the Department of Anthropology at the University of Idaho.
David Francis, Ph.D.
Senior Technical Editor/Archaeologist/Researcher
C.D., Museum Studies, University of Washington, 2003
Ph.D., Poetics and Critical Theory, University of Washington, 1996
M.F.A., Poetry, University of Washington, 1992
Applying his background in the Humanities to technical report writing, David Francis worked for University of Delaware Center for Archaeological Research (UDCAR) from 1987-1989 before moving to the Northwest to continue advanced studies in poetry and critical theory while simultaneously pursuing a career as field technician, report writer/editor, and research historian at regional and national CRM firms in the Pacific Northwest before joining Willamette in 2004. Dave also co-edited Archaeology in Washington with Doug Wilson, Ph.D., from 1998-2000, and in 2012, the Center on Contemporary Art (CoCA) published his book Field Notes from the Chimalapa Wilderness, Oaxaca, 2002-2012, an account of his many travels to the Zoque indigenous region. In addition to consulting on report writing and assisting in the field, he serves as part-time Public Art Coordinator for the department of Parks, Recreation, and Cultural Services in Shoreline, Washington.